The UK is fortunate to have so many great gardens; Blenheim, RHS Wisley, Stourhead, Wrest Park and Sissinghurst and many more; one garden though is very special, so special in fact, that it is a World Heritage site, Kew Gardens as we most fondly know it.
Background
The area of South-West London where Kew is situated has for centuries been home to wealth and royalty, fine gardens accompanied the many fines houses. We can thank Lord Capel John of Tewkesbury for an exotic garden, the forerunner of Kew Gardens today. The Pagoda, one of the features we know today, dates from 1761. In 1840, the gardens were formally adopted as our national botanical gardens.
Whilst the gardens get star billing, behind the scenes, the organisation behind it is one of top players globally in plant expertise. It employs over 700 staff, as well as Kew Gardens, they also manage Wakehurst Place. Kew welcomes over two million visitors to its site of over 300 acres.
Collections
Kew Gardens house the world's largest and diverse botanical and mycological collections. There are over 8.5 million items representing about 95% of plant and 60% of fungal varieties. The library is home to one of the largest collections of books, images and papers. Kew works with many organisations around the world, collecting and preserving plants and seeds at a time when many face risks from extinction in their native habitats.
Highlights
The gardens themself are of course excellent but it what today's gardens designers refer to as hard landscaping that makes Kew different. There are four grade one and over thirty grade two listed buildings and structures. Here are our favourites:
The Palm House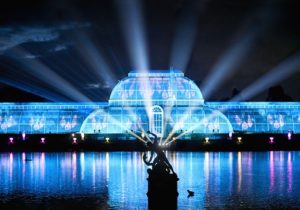 Unfortunately Victorian masterpieces in iron and glass such as the Crystal Palace and Chatsworth's Stove House are no more. Fortunately the beautiful organically shaped Palm House built in 1844 does. It is over 360 feet long and over 60 feet tall, the largest survivor of the type. The architect was Decimus Burton.
The Temperate House
At almost twice the size of its older brother, The Temperate House is the largest Victorian glasshouse in the world, opening in 1863. Also the work of Burton, it is more traditional in appearance so some think it is the older sibling. It recently reopened after a £40 million refurbishment, click on this link to read more.
Princess of Wales Conservatory
The youngest of the three grand glasshouses, opened by Princess Diana in 1987. It contains ten climatic zones housing plants such as cactuses and orchids. Also architecturally special, its shape makes the best use of natural sunlight.
Waterlily House
Also Victorian, in lesser gardens it would be the star attraction, here though, although in the supporting cast it is worth seeking out.
Elevated Walkway
For a birds eye view of the garden and tree tops, the walkway 60 feet above the ground is the place to go. Fortunately there is a lift if the thought of all those stairs put you off.
Queen Charlotte's Cottage
The 18th century thatched cottage and its surrounding natural garden is delightful, full of bluebells in Spring.
Visiting
Kew Gardens is easiest to reach by rail, Kew Gardens (Tube) or Kew Bridge (National Rail). By road from either the M4 Junction 2  or the M3 then A316.
There are numerous places to eat from snacks to more formal dining.
Click on this Link for the Kew Gardens Website