Opened in the 1860s, the Temperate House in London's Kew Gardens is the largest Victorian greenhouse in the world. It has now reopened after a five year restoration program costing over £40 million.
Temperate House
The Victorian architect, Decimus Burton designed Kew's Temperate and it equally famous neighbour, the Palm House, the former is over 620 feet long about twice the size of the latter. The Victorians mastered the art of building with cast iron and glass using it for railway stations, piers and of course, the Crystal Palace. Cast iron also provided the material for the extensive ornamentation. Whilst they built things to last, corrosion, the weather as well as general wear and tear take their toll.
The giant structure comprises of nearly 70,000 metal, stone and wood components as well as around 15,000 glass panes. All had to be refurbished or replaced. Some previous, less satisfactory repairs were also undone. Sir David Attenborough describes it, 'a breathtakingly beautiful space.'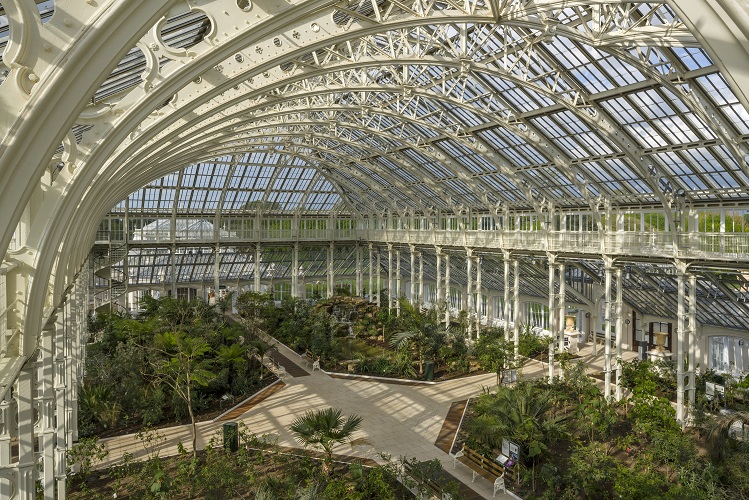 Plants
As the name suggests, the purpose was to house plants from temperate climates including some of the rarest and largest in the collection. Before work could commence, the task of removing around 500 plants, many valuable and rare for safekeeping had to be completed. These were placed in a temporary nursery.
In readiness for reopening, around 10,000 plants have been planted made up from 1,500 species. The star is Dombeya Mauritiana, possibly or almost extinct in the wild, Kew's specimen is the only one you are likely to see.
Visiting
The Temperate House is just one of the attractions to see at these famous gardens, a UNESCO World Heritage site. Kew Gardens,is open daily, the nearest tube station is the suitably named Kew Gardens, on the District Line. By road, the easiest way it to leave the M4 elevated section at junction 2.