Kew's world-leading scientists bring their work out of the labs and into the Gardens
Be a scientist for a day through interactive experiments, expert talks and behind-the-scenes tours
Enjoy Gastronaut Stefan Gates' live show about food and science, journey with Google's 360-degree virtual reality goggles, get futuristic in our Cryo Corner and learn how to be a honey detective
Kew Ambassador & botanist James Wong hosts talk in the Science Café
Grab your goggles, slip on a lab coat and get stuck into the 4th annual Kew Science Festival this summer in London's most beautiful and biodiverse setting.
Visit the famous Royal Botanic Gardens, Kew – a global leader in plant and fungal science – for a weekend of workshops, hands-on experiments, shows and behind-the-scenes tours that will captivate children and adults alike. Meet Kew's scientists and find out what they're doing to protect rare and threatened plants and fungi across the globe.
With over 350 scientists and work spanning over 100 countries, Kew is using the power of its science and the rich diversity of its collections to create a world where plants and fungi are understood, and their conservation prioritised for generations to come. Kew's vast science work spans from exciting plant discovery expeditions in Colombia, to vital conservation work in biodiversity hotspot Madagascar, to future-proofing crops around the world to help feed the global population, as well as conserving all the UK native tree species right here at home.
Set in the beautiful landscape of Kew Gardens, the festival will feature marquees on the lawns, from Kew's Jodrell Laboratory across to The Hive and Princess of Wales Conservatory, housing an extensive programme with something to intrigue everyone.
Professor Alexandre Antonelli, Kew's Director of Science, says: "There is no better place to inspire the next generation of plant and fungal scientists. By visiting Kew, you can visit lush rainforests, stroll along tree-lined vistas, and discover our year-round living collections of weird and wonderful plants – making it the perfect setting for a Science Festival. By bringing our science out into the Gardens, we hope to show visitors the extent of our extraordinary global work, why it matters, and how they can be a part of it. Above all, we want youngsters to have fun while understanding why plants and fungi matter and why their protection is crucial."
Festival highlights
 10am – 5pm every day, unless specific times stated
 Unleash your inner scientist and carry out your very own experiments – size up a tree, peer down a microscope, hold the world's largest seed and taste the smallest. Chat to a giant glowing fungus and experience the best tasting chemistry lesson ever. With activities designed for budding scientists of all ages, there's something for everybody. Arrive curious and leave inspired.
Cryo Corner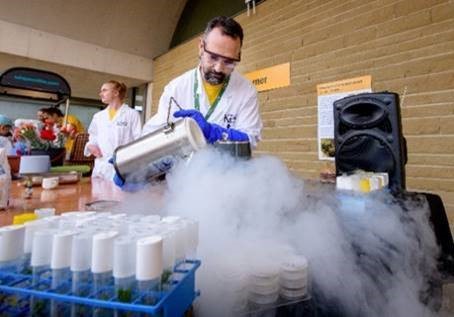 Prepare to be amazed by what's happening inside the vats of billowing nitrogen. Discover how Kew scientists are pioneering new techniques to conserve seeds that can't be banked in a traditional seed bank – like Kew's Millennium Seed Bank in Sussex.
Cryopreservation involves removing the embryo from the seed and using liquid nitrogen to freeze it at an extremely cold temperature of -196 °C.
Visitors will get the chance to see this exciting science in action at the 'Cryo Corner' where ice cream will be made with super-cool liquid nitrogen to get a glimpse of how cryopreservation works.
Discover the wonderful world of fungi
Fungi are vital to all life on Earth, but despite providing us with food and medicines for thousands of years, fungi have remained in the shadows when compared to plants and animals.
Find out about the intricate relationships between fungi and trees, plants, and people and discover some of the wild fungi growing at Kew on the 'Fungi Quest' trail.
There will also be a giant fungus on display to introduce visitors to the wonders of Kingdom Fungi – a dynamic and interactive installation from Kew's outreach project, Grow Wild.
James Wong hosts talk at the Science Café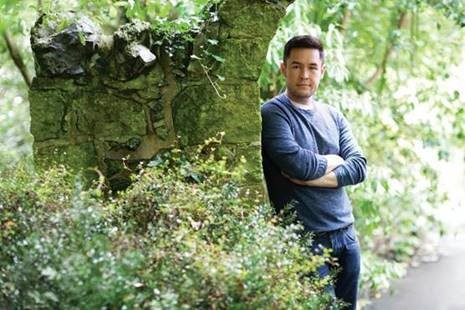 For those who really want to get their teeth stuck into some science there will be a programme of fascinating panel discussions and interviews with the experts. Taking place in the Science Café, they will address questions like, 'do plants think?' and, 'which species would you save from extinction?'.
Speakers will include Kew Ambassador James Wong, a best-selling author and regular on Radio 4's Gardeners' Question Time. James says: "After spending my childhood obsessed with plants and a dream of pursuing a career in botany, I'm really excited to be supporting the Kew Science Festival this year. Plants and fungi do the most amazing things so I hope we can encourage more young people to take an interest and understand how important they are to all our lives."
Visitors can hear from James and hang out with biologist, writer & TV presenter Simon Watt over the weekend for a series of family games, quizzes and Q&As to get you thinking.
See through the eyes of a Kew Scientist
Go on a journey to the far reaches of the Earth with Google's 360-degree virtual reality goggles and experience for yourself what it feels like to be a Kew Scientist on a field trip. Visitors will 'virtually' be able to join the intrepid Kew botanical explorers on their field missions to discover and conserve rare and threatened species.
Locations will include recent Kew scientists' trips to Caribbean island Montserrat, and Norfolk Island in the South Pacific Ocean near Australia.
Honey Detective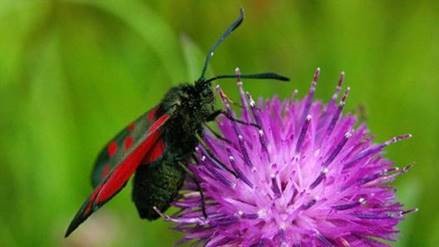 Kew scientists will be on hand to show visitors how to become a honey detective and match the honey to the plant it comes from – just why do different bees seek out certain plants?
The best tasting chemistry lesson you've ever had! Peek inside a live bumblebee colony or join the Kew team on a pollinator walk to see plants and their pollinators up close and in a whole new light.
Behind-the-scenes tours
The festival will also offer the chance to go behind the scenes at Kew with tours of Kew's Tropical Nursery which houses a dizzying array of exotic and rare plant species, and Kew's awe-inspiring Herbarium where around 7 million plant specimens are preserved, including samples collected by the likes of Darwin.
There will also be the chance to be one of the first to experience the brand-new Evolution Garden and find out how its innovative design was created through collaboration between Kew's scientists and horticulturists, to explain the plant 'tree of life'.
Gastronaut: The Wildest Food Show on Earth
TV presenter Stefan Gates' extraordinary live show about food and science. A blend of bizarre plant biology with explosive chemistry, sensory perception and spectacular physics to reveal the amazing secrets behind the food we eat every day.
Expect glow-in-the-dark drinks, vortex cannons, edible insects and smelly 'fartology' in this unforgettable and very funny science show for both adults and children.
Visit the Kew Science Festival and discover the amazing world of plants and fungi with our scientists. Entry to the festival is free with standard admission ticket into the Gardens or membership. Tickets start at £4.50 for children and £16.50 for adults.