A new posting from guest contributor, Caroline Knight of Perfect Plants (Sussex) Ltd
So many different flowering cherry trees to choose from, but which one's the best?
April and May are the peak periods for cherry tree blossom, during which time the majority of flowering cherry trees will be covered in blousy blooms. But which is best? With so many to choose from, it's a great idea to utilise the coveted Royal Horticultural Society (RHS) Award of Garden Merit (AGM) to help in your selection.
This mark of quality is awarded to garden plants after trials which judge performance under many different UK growing conditions.
Here are 10 of the best AGM ornamental cherries – one of which could come to a garden near you. After all, this is the perfect time in which to plant!
But firstly: these trees give a lot of pleasure to us – but what do they need in return?
Flowering cherries like to occupy an open, sunny site. They won't be delighted if they are planted in a shady, north-facing spot. You will also suffer if you plant your tree in a windy spot because the strong spring winds are likely to blow away all the blossom. Bearing in mind that the flowers last but a few short weeks, this would be a great shame.
Ornamental Prunus cherry trees prefer a well-drained, rich soil with plenty of moisture in spring and summer. They don't like to dry out or to become waterlogged. Other than that, their needs are simple.
We owe many cherry trees to Collingwood 'Cherry' Ingrams. Indeed, there is a tree named after him. He bought a Kent property called The Grange back in 1919 and set about developing the garden as a series of 'sylvan glades' which he planted with specimens that he collected on plant hunting expeditions. He was also responsible for creating many beautiful hybrids. His contemporaries included Christopher Lloyd, Vita Sackville-West and other notable 20th century plantspeople. The Grange is now a care home for adults with learning difficulties but the gardens are still full of cherry blossom in spring. Indeed, the gardens abut
Benenden Church of England Primary School but it's doubtful the children or staff realise how privileged they are to be able to glimpse the blossom.
Larger ornamental cherries
Got some space to fill? Consider Prunus avium 'Plena', which has double white glorious flowers in mid spring. This is the double-flowered variety of the wild cherry and it is a sight to behold once it wears its white mantle. It's healthy and easy to grow. Give it space, however, as this tree has the potential to grow up to 20m tall.
Prunus padus 'Watereri' is also known as the bird cherry. It's not strictly what you might expect from an ornamental cherry, but equally as impressive. This is a medium tree, growing eventually to a height of up to 12m. It produces long plumes of white flowers which are almond-scented and loved by insects. This is a useful parkland tree with good autumn colour so it has two-season appeal. Also known as Prunus 'Grandiflora'.
Prunus 'Kanzan has wonderful deep pink, double flowers in late April and this medium-sized tree can reach a height of up to 10m, with a similar spread. It's a popular choice for those looking for pink, fluffy clouds of blossom! In fact, this can be considered one of the most popular cherries because it is laden with blooms in spring. The bronze foliage appears afterwards and this turns orange in the autumn. A good tree for avenue planting or as a specimen tree.
Medium flowering cherries
Prunus 'Collingwood Ingram' has deep pink single flowers which are displayed in profusion during spring and are great for beneficial garden insects. It is a small to medium tree, growing to about 8m tall and has a neat, proportionate spread of about 4m. This tree forms a columnar, neat shape and it has bronzy spring foliage that also gives great autumn colour.
Reaching a similar height is the graceful, pendulous form of Prunus pendula f. ascendens 'Rosea'. The branches have the most unusual upright form, despite this tree being part of the pendulous range of Prunus. The vase-shaped tree grows to around 8m with a similar spread.
Some flowering cherry trees spread outwards more than they grow upwards and Prunus 'Shirofugen' is one example of these. It's a glorious flowering cherry that matures as a small to medium sized tree. Its maximum height is around 8m, with a spread of 10m. So, it needs space to stretch out its branches. This will enable a great view of the pale pink double blossom. Beautiful.
Another similarly shaped ornamental cherry is the fabulous Prunus 'Ukon' with its white, semi-double flowers which have glorious magenta centres in spring. The flowering cherry tree grows to a small to medium height of up to 8m, with a spreading shape extending to about 10m.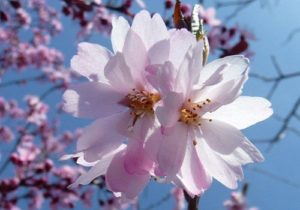 Diminutive ornamental cherries
Need something a little smaller? Consider Prunus 'Shogetsu' which is also called 'Blushing Bride' because of its wonderful white double flowers. It grows to a height of around 5m, with a wider spread of up to 8m.
Then there's Prunus 'Yoshino', often called the Yoshino cherry and also the weeping Yoshino. It's a pendulous, weeping tree with single white or very pale pink flowers. This small tree reaches a height of up to 5m. Ideal for a small space, you could even put a seat underneath in readiness for a shady retreat in summer!
Smaller still is the tiny 'Pendula Rubra', a drooping, flowering cherry which is diminutive in size, reaching a height of only 4m, with a similar spread. Ideal for even a courtyard and some people even manage to grow these trees in large pots. It produces lovely, single, deep pink flowers in spring which are a delight to insects as well as to the eye.
Perfectplants.co.uk is an on-line retailer supplying quality plants – many of which are home-grown, together with garden essentials, tools and equipment, garden furniture, ornamental goods for the home and garden gifts. Most of these trees are available on-line from Perfectplants.co.uk