Guest contributor Kitty of Alitex gives advice on choosing a greenhouse that combines good looks with practicality
Much like buying a new house, purchasing a greenhouse is a decision for many that requires a lot of consideration. When determining the size and finish of your structure, it is important to ask yourself what the primary use of your greenhouse will be. There are many factors that must be considered from the purpose, the accessories, to the positioning of your greenhouse in its surrounding landscape. It is the attention to details that makes your greenhouse bespoke and tailored to your needs.
To break down this process and aid you with your potential greenhouse project, read Alitex's 3 top tips below.
Design
Many do not consider aluminium when they begin their research however, with significantly lower maintenance costs in comparison to the traditional timber materials, aluminium proves an efficient and beautiful material to use. In keeping with the traditional Victorian aesthetic, powder-coated aluminium greenhouses are elegant, and a great option for those who live in listed buildings, or conservation areas where the additional structure must blend with the surrounding landscape.
Historically, a traditional greenhouse was the centerpiece to a walled garden. This is possible to achieve even today depending on the existing wall height and what you would like to grow. A south facing wall can provide extra warmth for growing vines or soft fruit trees.  If you decide on a south facing structure, due to the sunlight you may want to consider blinds – this keeps the temperature inside your greenhouse down, complementing the ventilation system so you can be sure that your greenhouse is functioning at the optimum temperature at all times.
Purpose
What do you want to use your greenhouse for?
There are so many things to choose from when it comes to growing plants, whether it's having fresh produce for the table, cut flowers for the window sill or seedlings that you can mature and plant out into your own garden – having a list of desired outcomes can help with determining the size and shape of your structure.
Although the conventional purpose is to grow inside a greenhouse, many have adapted their Alitex structures as an extra living space outside the house. Whether you wish to sit and paint, or have a quiet coffee break, your greenhouse can easily be adapted by adding a table and chairs, or even some other soft furnishings to truly make your greenhouse the perfect place to relax.
Accessories and Layout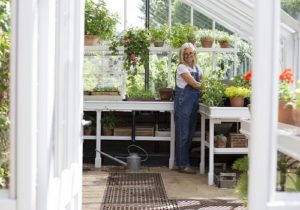 Another consideration is how the interior of your greenhouse will be designed. There are many opportunities to maximise growing space with the addition of benching, strawberry boards, or raised beds.
Benching – Enables you to utilise every area of your greenhouse as it can be positioned around the edges, giving you lots of floor space.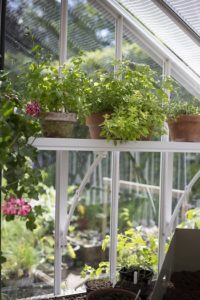 Strawberry Boards – Dating back to the Victorian days of glasshouses, by mounting Strawberry Board shelves along the eaves, on the gable or rear wall your plants are able to receive the most sunlight, making it less likely that they will become 'leggy.'
Reservoir and Pump – A reservoir is a very handy addition to have inside your greenhouse. By collecting and storing run off rain water, the easily accessible hand pump means that you can easily fill your watering can from within your greenhouse. Located under the bench, the reservoir is protected from sun exposure, thus reducing algae build up. A tight lid is fitted for safety purposes.
These are just a few top tips to consider. Alitex prides itself on its expertise, and turnkey service. From the initial stages of a site visit to the installation and after care of your greenhouse, we ensure that the customer journey is seamless.