Whilst thumbing through a weekend magazine, an article mentioned a house with an £18,000 bespoke built barbecue, being a barbecue fan, this caught my attention.
If you win the Lottery
Unfortunately, the article didn't mention the suppliers name, but by resorting to Google I soon found a few suppliers. My search was of course for interest only, it is nice to see how the other half live.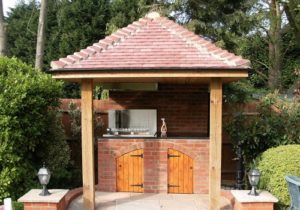 It's fair to say, we are not really talking about barbecues or even amazing barbecues, what is on offer are pretty well complete luxury kitchens only they are outdoors.
London based Archway Sheet Metal Works seems a case in point. On their extensive website you can find pretty well everything except pricing. Perhaps it is like a Rolls Royce, if you need to ask the price, you can't afford it.
Another one that caught my eye, also London based is BBQ Island. Again a lovely website with images of beautiful settings and outdoor kitchens.
It seems you can have pretty well anything you like designed to fit your requirements.
The BBQ Island list of options is impressive;
Dining and Bar areas
Draft Beer Pumps
Side Burners
Teppanyaki Griddles
Wood Fired or Gas Pizza Ovens
Sinks and Storage
Fridges, and Ice Chests
Amazing Grills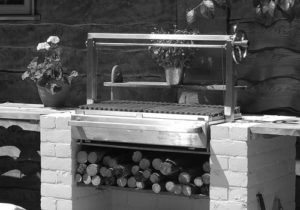 If you are looking for something a bit more rustic yet professional quality, then Ox Grills could be what you are looking for. This UK company has been making grills for the professional market for over thirty years. Their Classic Ox grill designed for the home market is 1,990 plus VAT, can be built in to an outdoor kitchen or used free standing with their heavy-duty stainless steel stand.
If you have looked around the BBQ section of John Lewis lately, you can't of missed the Green Egg. Hailing from Japan, the Kamado style of BBQ resembles the familiar Weber Kettle, but is made of ceramic rather than steel.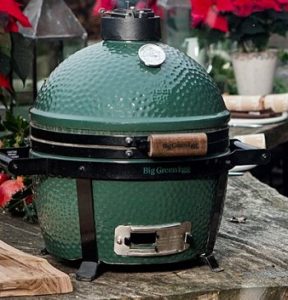 Ceramic being a much better insulator, means that the BBQ will stay hot for hours allowing for slow cooking. Several companies offer this type of BBQ but Green Egg seem to be setting the scene. They have a good track record of supplying to many top chefs up and down the country. Prices come in just under £1000 but for a family size with the necessary bits and bobs, expect to pay double.