From guest contributor Tash Ellens of Alitex
The options for growing under glass are endless, if you want to grow flowers, vegetables or even tropical plants, a greenhouse is the ideal home of controlled growing conditions, adjustable temperatures and manageable sunlight.
You can use a greenhouse all year round.
Winter to Spring
In January, you can house tropical and overwintering plants, ensuring the atmosphere is dry, using water sparingly. You can start early sowings of sweet peas and onions, pinching them out and planting into larger pots. January is also a great month to take cuttings of tender plants, but make sure you bring compost into the greenhouse to warm up several days before using to prevent seeds and young plants being chilled.
March is another good month for seed sowing in the greenhouse. Although the weather is unpredictable and temperatures can fluctuate, monitoring your greenhouse is important. You may need to heat it or open the door and vents to ensure humidity levels are kept low. If your greenhouse is not heated, it's best to sow hardy seeds in late March and buy tender bedding plants as plugs in late April.
Growing Under Glass in Summer
During May to July, your greenhouse is more than likely to be packed with vibrant healthy plants. They will be actively growing, so staking and tying should be done as plants grow. Unlike in the garden, remember that roots cannot extend out into open soil to seek extra food, regular watering 'little and often' remains a golden rule when feeding.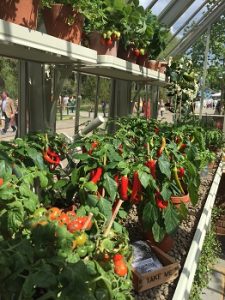 Winter
If you're unsure what to do in the greenhouse during November and December, it's often a good time for a clean-up. Clearing out old seed trays, scrubbing staging and shelves with disinfectant and cleaning the glass. By giving your greenhouse a good clean it ensures that no bugs or diseases will affect the next growing season. See the Alitex guide on how to clean your greenhouse here: How to clean your greenhouse
Not only is your greenhouse good for year-round growing for common vegetables and plants, but some Alitex customers tend to use their greenhouses for speciality plants and collections.
Simon, an Alitex customer, chooses to house his cacti collection in his greenhouse. If you're looking to grow cacti under glass, Simon has a little bit of advice; "Although cacti enjoy warmer conditions, the greenhouse shouldn't get too hot and it is important that cacti get a cool period (around 10 degrees) to winter over and become fully dormant".
Something different
Perhaps you'd like to grow something a little more unusual? Alitex customer, Sally prefers to grow South African varieties, including Cannas, Ginger Lilies and Clivias. She aims to keep the greenhouse at 5 degrees during the colder months and uses fleece and bubble wrap to contain the warmth.
Or if you'd just prefer to grow the perfect tomatoes, our friends – the experts at Kew Gardens, recommend not putting more than 5 plants together as the air needs to be free to flow around. Sow them in late January with a moist compost, transplanting into pots once they reach 2-3 cm tall and by midsummer they'll be thriving; you will need strong stakes to support the plant so it does not collapse under its own weight and don't forget to pinch out their side shoots.
So whether you want to grow vegetables for fresh summer salads or even melons that will surprise your guests, the opportunities for growing under glass are limitless!