The popularity of raised bed gardening has soared in recent years, but raised beds have been a practical feature of horticulture since Medieval times when woven fencing was used to contain small areas of crops. So why has this system of gardening proved so popular for hundreds of years? What are the benefits of raised bed gardening, and how can you incorporate raised beds into your own space, whatever that space might be?
What Are Raised Beds?
Raised beds are freestanding structures filled with substrate which lift the growing area above ground level. The reason for raised bed gardening is to avoid soil compaction, improve aeration and increase drainage by reducing the need to walk over the soil. Raised beds can be constructed from new or recycled materials such as timber, sleepers, or masonry, and can be easily purchased as ready-made raised bed kits or even spec built to suit your space and needs.
What Are The Benefits of Raised Bed Gardening?
There are many benefits to raised gardening, not least reducing awkward kneeling and bending to tend your plants. Raised beds add architecture and interest to the garden when incorporated as design features. You can paint or decorate the structures to add a pop of colour here and there, they can be used as dividers to create distinct 'zones', and also double as seating areas. Compared to ground borders, raised beds will heat up earlier in spring and retain warmth later into winter, extending the growing season. Because you can micromanage the bed environment and deeply enrich the soil, they can produce better quality crops using less space than ground borders.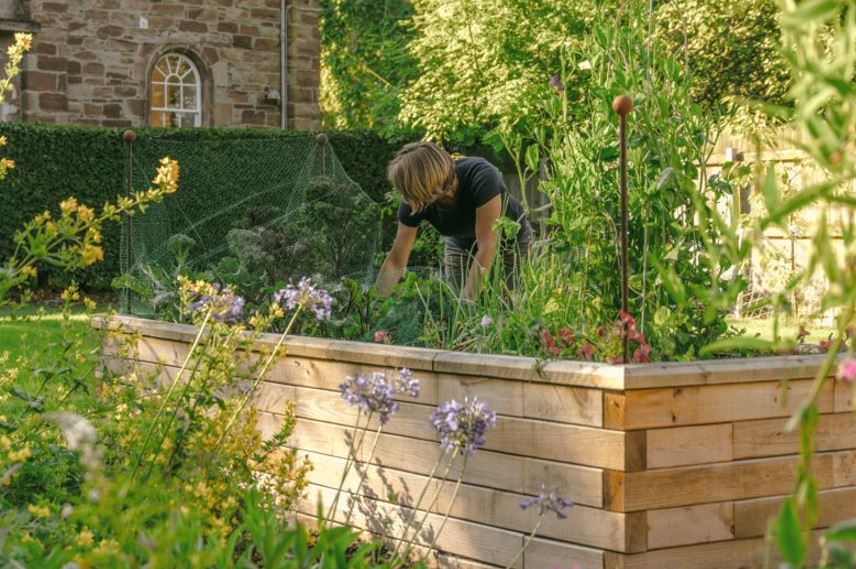 What To Grow In Your Raised Bed?
The short answer- almost anything! Raised beds are suitable for virtually any plant, shrub, alpine, fruit, or vegetable. The depth, size, and position of the bed should be relative to the plants you plan to grow, for example, shallow-rooted vegetables require less depth than shrubs or perennials. Anything above six inches deep is sufficient, but 12 to 18 inches is generally considered best. Pay attention to the space requirements of your plants. Tomatoes, for example, will need plenty of space to spread, as opposed to carrots or radish, which can be planted more densely and require a smaller bed.
Positioning Your Raised Bed
Raised beds can be placed almost anywhere flat, can fit into small spaces, and can even be used to create terrace structures in gardens with steep slopes or level changes, increasing the overall usable space. They are great if you have a completely paved garden as they provide fertile growing spaces without needing heavy-duty groundwork, and can simply be placed on top of concrete or other hard ground. When selecting the location of your raised bed, be mindful of the light and shade in each area of your garden, and the light requirements of the plants you plan to grow. Most vegetables, for example, will need six to eight hours of full sun. You should place beds where you can access all sides and, if you plan to have more than one raised bed, ensure there is space to walk or manoeuvre a wheelbarrow between them. It is important that you can reach across the whole width of the bed comfortably, to avoid climbing onto the bed and compacting the soil.
Soil and Filling
Perhaps one of the greatest benefits of raised beds is that it doesn't matter if your garden is cursed with poor-quality soil, you can simply create your own fertile soil mixture within the bed! Raised beds also give you total control over soil conditions, allowing you to engineer the environment to suit very specific plant needs. Mindful planning and clever planting mean plants with similar needs can be placed in beds together, efficiently organising and simplifying ongoing care and management. For best results, fill your frame with an enriched mixture of soil and organic matter such as compost or manure. Raised beds will retain nutrients better than ground borders once established, but yearly fertilisation and regular feeding is always a good idea. Once you have filled your bed, you should wait a couple of weeks to allow the soil to 'settle' before you begin planting.
Irrigation and Drainage
Because the soil in raised beds is looser, drainage will be better than in borders, the soil will dry out faster so you will need to water the beds quite regularly. Irrigation can be time-consuming with the humble watering can, so a drip system or sprinkler hose is advisable for the very hot mid-summer months. When installing a raised bed on concrete or hard ground, be mindful to incorporate rubble or other materials that will encourage drainage before filling with soil.
Maintenance
Raised beds are fairly easily maintained. Whilst they protect from ground-level pests such as beetles, the frame of the bed can provide an unwitting home to other pests like slugs and snails, so some pest management will be necessary. Weeding should be carried out regularly, especially after the summer growing period has ended, to prevent wayward weed seeds from setting root over winter and overrunning the bed come spring. Dense planting within the bed can help to stifle weeds. Mulching will also protect from weeds, as well as help to retain moisture levels and regulate soil temperatures. During winter, cover the soil to protect the fertility and nutrients of the soil. The freezing and thawing cycles should help to work nutrients deeper into the soil. You can even convert your beds into cold frames during winter by covering with plastic supported by hoops to protect crops from frost, extending the growing season even further.
Protecting against weather, weeds, pests, and 'gardeners knees', yielding better quality crops with less space, and adding interest and architecture to the garden, our medieval ancestors were on to a good thing when they discovered raised bed gardening, and long may it continue!