Help birds to thrive in your garden with Nokular bird food
Feeding wild birds in the garden is a popular pastime, particularly during the spring months. As the month of May begins, it's clear to see why.
Spring marks an important period for wild birds as nesting season gets into full swing. Wild birds put on incredible displays, injecting an abundance of energy, colour and sound to gardens across the country. In return, we would suggest providing treats to our feathered friends in a period where optimal nutrition and abundance of chick-friendly food is crucial to ensure the healthy development of breeding birds and their young.
We've teamed up with Nokular bird food to give Gardener's World members an exclusive 25% off using code GARDENER25 at nokular.com – read on to find out more.
What could I see in the garden at this time of year?
Where do we begin?! The UK is fortunate to be home to an abundance of wild bird species; according to the RSPB's bird identifier tool, 407 species of bird can be found in the UK, as well as some rare overseas visitors.
However not all of these species are likely to visit your garden, so we've included a few of our favourite garden birds below:
Robin: A familiar face and loved by many. A plump bird with a bright orange-red breast, you can hear their sweet song all year round. Don't be mistaken though, these wonderful creatures are territorial and quick to drive away intruders!
Blue tit: Bright, blue and beautiful. It's commonly seen in UK gardens, especially in the cold winter months. Wise in character, blue tits shine brighter as they get older; it appears that they get brighter plumage as they age with each subsequent moult.
Wren: The shortest British bird, the humble wren is found on the smallest British coin, the farthing. Famous for being the most widespread bird, they make their presence known through their loud song and mischievous character.
Goldfinch: The bourgeoisie of the bird world, whose name used to be 18th century slang for a very wealthy person. Bearing the majestic red face mask, these golden birds bring a real 'charm' (the collective name for goldfinches), to our gardens.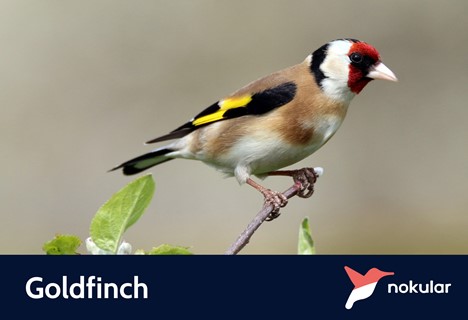 Why feed garden birds?
Many of us feed birds in the garden simply because it brings us lots of joy! For others, garden bird feeding can bring plenty of wellbeing benefits; birdwatching allows you to immerse yourself in nature, which brings your senses to life and grounds you with perspective as you start to notice the wildlife around you
Birds can also be enormously inspiring; stopping to notice the intricate details on their feathers, the migratory patterns that they follow, the interactions between different species – they all have a story to tell!
Some believe that feeding wild birds is detrimental to bird populations. Plenty of research has been conducted on this topic and many leading organisations and charities – including the British Trust for Ornithology (BTO) – encourage garden bird feeding if the bird food offered is of a high quality and the feeder is cleaned and well maintained. You can read more about BTO's support of garden bird feeding, along with their tips and tricks to keep wild birds healthy here.
What should I feed to garden birds?
When we talk about buying bird food with others, the phrase "buy cheap, buy twice" often gets mentioned. That's because many bird seed mixes contain lower quality ingredients such as wheat that get discarded by the garden birds, so while those mixes can be a lot cheaper, you'll end up ordering more because there is plenty of wastage. On that basis, we avoid any mixes that include wheat.
Nutritional balance is also crucial. We suggest buying seed mixes that provide plenty of protein, fats and carbohydrates that respond to the varying needs of birds throughout the year.
That's why we recommend giving Nokular a try; they provide one blend of bird food for each season, changing their ingredients throughout the year to match the nutritional requirements of our wild garden birds. Their blends are no mess and contain no wheat fillers. In addition, all of their products are sent in 100% recyclable packaging along with educational monthly inserts to help you discover more birds in your garden and deepen your knowledge of our feathered friends.
We've partnered with Nokular to give all Gardener's World members an exclusive discount. Get 25% off everything using the code GARDENER25 – simply enter the code when you are checking out on the Nokular website.