As with many things today, the choice on offer is so wide it gets confusing. In this lawnmower buying guide, we look at the type, size and features you should look for.
Types of Lawnmower
Rotary Mowers
Rotary mowers use a rapidly rotating blade cutting the grass similar to a scythe. Being a simple concept, prices are low for entry-level models. The simplest types have a wheel in each corner with no grass collection. Hover mowers work similarly but replace the wheels with an cushion, they are light and ideal for mowing grass banks. Ride on or lawn tractors are designed for very large lawns.
Rotary mowers, providing the blade is sharp can give a good cut and can be used on uneven lawns and long grass. More expensive models have a rear roller to give the desired stripe effect.
Cylinder Mowers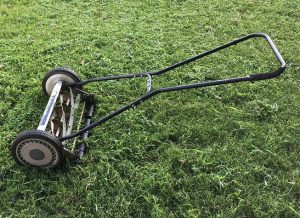 Traditional cylinder mowers can be powered or manual. Multiple curved blades on the rotating cylinder interact with a stationary blade to cut the grass using a scissor action. Choose this type for fine, frequently cut lawns. They are unsuitable on long grass or uneven lawns. The blades and their setting are susceptible to damage by stones.
If  you want, a bowling green finish, this is the type to use. For very small lawns, a simple push side wheel type is ideal.
Robotic
If you really can't face the prospect of mowing your lawn, you can either pay someone or buy a Robotic mower. These are cordless rotary devices, that automatically pop out of their enclosure and mow your grass. After mowing they return home and charge the batteries. The lawn perimeter is marked with a discreet wire. I've not seen any model with grass collection.
For larger lawns keeping sheep is an alternative!
Manual, Petrol, Electric or Battery
Unless you are super fit or only have a very small lawn, it's best to avoid a manual model.
Petrol mowers are now more affordable. They come in most sizes, being self powered they are convenient to use and powerful enough to cut through longer grass. Purchase and servicing costs are higher than for electric models.
Other than sharpening and cleaning, electric models require little maintenance. They are lighter than petrol and easy to use. Cheaper models can be lacking in power and may shut down occasionally to allow for the motor to cool. The main downside is the cable, if there are trees and shrubs around the lawn, the cable is bound to get caught in them. If you have island beds in your lawn, you will need patience.
Cordless Battery models overcome the cable problem, but prices are higher and you need to make sure they can cut your whole lawn in one go. For a small lawn they are a good choice.
Choosing a Mower
Size – Cutting width
Don't buy a larger model than you need. Smaller lawns tend to have tighter corners and curves to navigate around, the larger the mower the harder this is. For a small lawn a cutting width around 35-40 cm is ideal. For a medium size lawn 45-55 cm is better.
Rear Roller
If you want a classic stripy lawn you need a rear roller. Most cylinder mowers have them, they are less common on cheaper rotary models. As the roller adds weight, it's wise to have self power.
Self Power
With cheaper rotary types, only the blade is powered. Whilst pushing is OK with small cutting width models, it soon becomes tiresome if there is a rear roller and/or the lawn is wider. It's a must have feature on sloping lawns.
Grass-Collection
Hover mowers and cheaper rotary types leave the cuttings on the lawn. If you want a reasonably fine lawn, you will then need to rake them up manually. Ignore claims that the grass is finely mulched and feeds back into the lawn. Unless your lawn is field quality, only buy models with grass collection. Look for a good size grass box to avoid a trip to the compost heap after every lawn length.
Self-Start
Petrol models can have a self-start avoiding the need to use the pull cord, whilst handy, it adds quite a bit to the cost.
Build Quality
Prices vary widely for what at first glance look similar specifications. But as with most things, you get what you pay for. Premium models are more robust. Key areas to look at are the body (rotary models) and the blade thickness (all types). Stones inevitably find their way onto a lawn and will cause damage to flimsy designs. Metal bodies, in particular aluminium will last longer than plastic.
Motor or engine power is another key area, an under powered model will take longer and possibly overheat.
Mower Care and Safety
Servicing
Clean the blades after every cut (watch your fingers!), dried out grass is difficult to remove.
Check oil levels, keep leaves etc. clear of the engine. Petrol mowers need an annual oil change, filters may also need cleaning or replacing. It's fairly easy to change blades on rotary mowers, DIY sharpening is also possible. Cylinder mowers are best sharpened by a professional.
Make sure models with steel bodies are dry to keep rust at bay.
Safety
Always remove power before servicing.
Only use electric models with an RCD device, take extreme care to avoid cutting the cable.
Keep rotary mowers flat on the grass otherwise stones etc. can fly out with dangerous force.
Never put you fingers near cylinder mower blades and take care with rotary blades, they can be sharper than they look.
Refill with petrol before mowing to avoid the risk of spilling petrol on a hot engine.
Always keep pets and children away when mowing your grass.