Dream Beach Media is an award winning UK based production company – producing commercial films and content for brands across the UK & Europe.
In December 2023, we are filming a commercial project for a major automotive brand – taking on the form of an epic UK road-trip over the course of 7 days and we need YOU!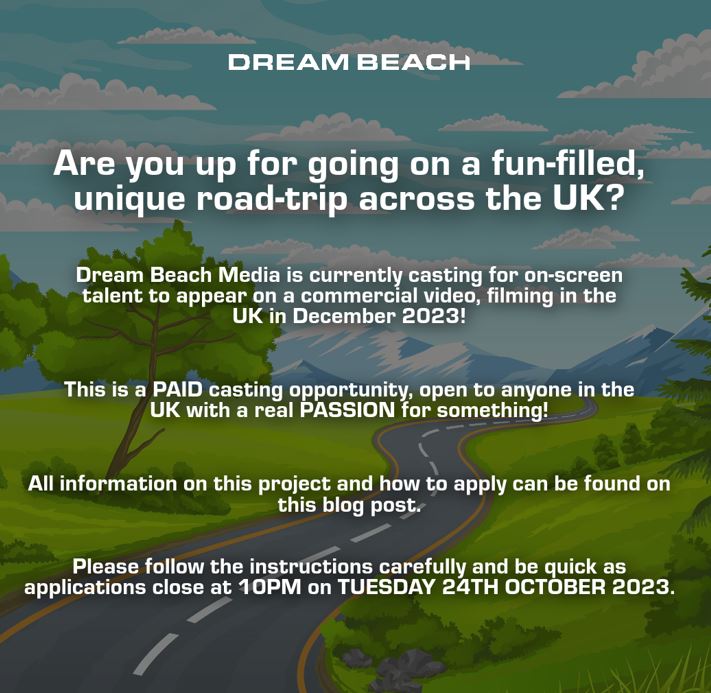 We will be taking x3 pairs of people (each pair driving a brand new electric car from our client) who will make their way up the country, via various 'checkpoints' where they will be doing some really fun and unique activities and experiences. Each pair/team will have their own dedicated producer and camera team to support them every step of the way. Think: Gogglebox meets Race Across the World!
We are looking specifically for people with a PASSION for something (even Gardening), this is really important!
APPLICATION INFORMATION – HOW TO APPLY:
In order to apply, you must be able to confirm the following:
That you have someone else to apply with (we are looking for pairs here, not individual applications).
You can be available for 7 full days of filming between 8th-18th December.
One of the pair must be able to drive and hold a full valid UK driving licence.
You are very passionate about something!
To send an application please email: [email protected] and use the subject line: 'Automotive Campaign – Talent Application'. In your application email, you must detail the following:
Your names
Your ages
Where in the UK you are based
A short 'selfie-style' video of yourself and the person you are applying with (if together is not possible,
separate videos are also fine) – telling us a bit more about yourself, but with a real focus on your PASSION. (This is very important, we are specifically looking for people who have a hobby or special interest that they are really passionate about.) Please also include answers to the following questions:
What is your passion? What do you do?
Why do you love what you do?
How did you first get into it?
APPLICATIONS CLOSE AT 10PM ON TUESDAY 24TH OCTOBER 2023.